TTM Technologies:
A Global Leader in Technology Solutions
and PCB Manufacturing
TTM Technologies, Inc. is a leading global manufacturer of technology solutions including mission systems, radio frequency ("RF") components and RF microwave/microelectronic assemblies and quick-turn and technologically advanced printed circuit boards ("PCBs").
TTM stands for time-to-market, representing how TTM's time-critical, one-stop manufacturing services enable customers to shorten the time required to develop new products and bring them to market.
Why Choose TTM as Your Advanced Technology Partner?
Approximately 250 salespeople located in major markets around the world
About 1,600 engineers and technology professionals
Around 17,000 Employees
Nearly 200 patents awarded and more coming

for advancements in manufacturing and design

Design centers dedicated to advanced technology development
Field application engineering coverage globally
Top 5 global PCB manufacturer
24 manufacturing sites worldwide
Dedicated engineering teams with specific end-market expertise
Proven track record for high-reliability applications in automotive, medical, computing, aerospace, defense, and networking & communications
Leading supplier of Aerospace & Defense PCBs, custom assemblies, microelectronics and other engineered solutions
RF components, integrated assemblies, signal integrity, and engineered solutions
Printed Circuit Boards, including ceramics, high-density interconnect ("HDI"), rigid-flex, flex, RF/microwave, thermal management solutions, conventional
RF and specialty products for connectivity and 5G enablement
Microelectronics for aerospace, space, and defense applications

Our Vision
Inspire innovation as a global preeminent technology solutions company.
Our Mission
Provide customers with market leading, differentiated solutions and an extraordinary customer experience.
End-Market Expertise
Our global network of engineers and production staff has experience helping the world's most recognizable brands bring innovative electronics to market. TTM provides solutions that enable revolutionary electronics to get to market and change lives.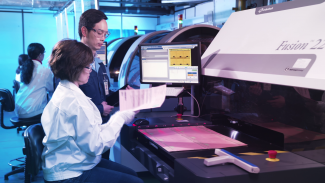 Broad Technology Solutions Offering
We continuously improve processes, invest in capital, and hire industry-leading experts to ensure we are well equipped to support tomorrow's technology today. We're ready for the future, are you?
More About TTM
More About TTM
TTM Technologies Provides Advanced Technology Solutions for a Diverse Range of Innovative Applications
TTM Technologies Provides Advanced Technology Solutions for a Diverse Range of Innovative Applications